News
Posted by Anitra Roberson-Vinson on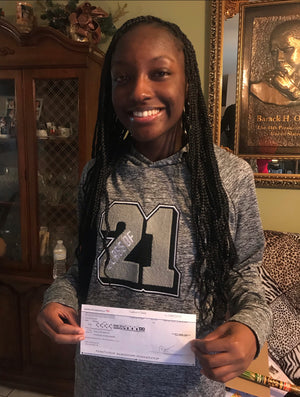 We are proud to announce that we gave out our first scholarship this February. Judea Henderson is an upcoming Pine Forest High School graduate, C/O 2021, and our first recipient of a $2000 scholarship! We wish Judea much success in her studies.  
Posted by Anitra Roberson-Vinson on
I had the pleasure of chatting with the lovely Khadijah RBz on her podcast, Declareitpodcast, where we discussed the attribute Faithfullness. Check her out and subscribe to her podcast- streaming on iTunes & GooglePlay. Click the link to below to subscribe to her amazing Podcast! Here is the link to Apple Podcasts for DECLARE IT with Khadijah RBz:https://podcasts.apple.com/us/podcast/declare-it-with-khadijah-rbz/id1456696948      
Posted by Anitra Roberson-Vinson on
Super honored & excited to announce that I was chosen to be on the first ever Laila's Knock Out Holiday Gifts list alongside a select group of small business Laila Ali loves! See photos below for details.                  
Posted by Anitra Roberson-Vinson on
I had the honor of being interviewed by Brittany Jones from BNC (Black News Channel) for their Entrepreneur Sunday segment. I talk about the story behind my brand. Check it out.